Universal
Design


Profilo Smart created a range of flexible accessories designed for everyone: not only wheelchair users, but also seniors, pregnant women, children and people with a temporary reduced mobility.

"Universal Design" is the design and composition of an environment so that it can be accessed, understood and used to greatest extent possible by all people regardless of their age, size, ability or disability. [...] This is not a special requirement, for the benefit of only a minority of the population. It is fundamental condition of good design. If an environment is accessible, usable, convenient and a pleasure to use, everyone benefits".
NDA, Ireland
Discover the
Profilo Smart's
Flexible System
Profilo Smart's Flexible system is based on an aluminium track with a highly customizable cover upon which it is possible to attach, adjust, fold and remove a range of accessories.

ADJUSTABILITY
Height/sideways adjustable accessories for a superior comfort and safety.

FLEXIBILITY
Accessories easy to add and remove for multi-purpose, flexible environments.

FULLY CUSTOMIZED DESIGN
Endless customization possibilities for adapting the system to any possible style.
Track & Cover

Customize the cover...
... and integrate the system in any environment.

Modular Choose any length.
Customizable Choose among 3 different type of covers, 4 finishes and any possible color to integrate the system in any environment.
Resistant It supports up to 1,200 kg per meter.
Easy to operate
Safe In the locking Handle of the accessories is open, the cover won't close.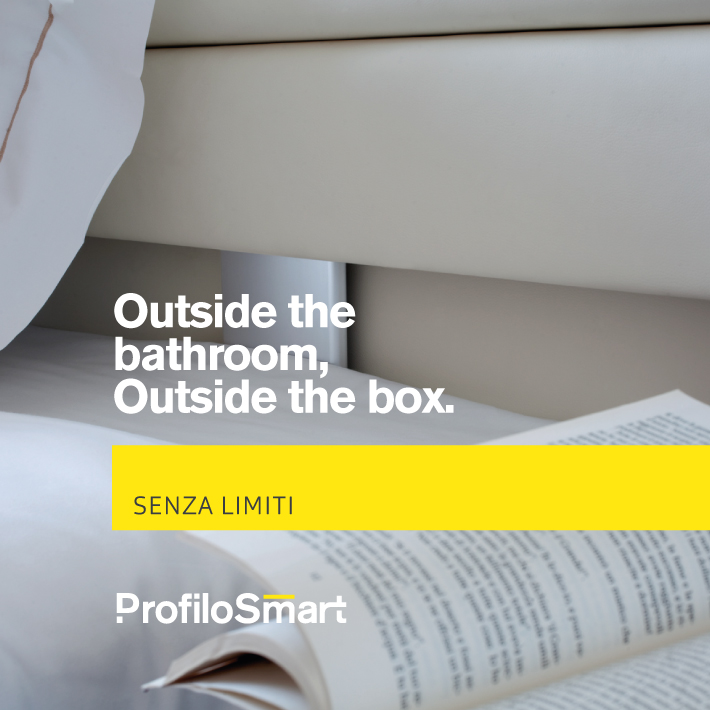 Moving Toward
The Future



The potential of our innovative system exceeds accessibility and exceeds bathroom environments.


Flexible living spaces are the future. Thinking about innovation today, mainly means thinking about the digital space. The way of thinking about physical space inside buildings though, did not change a lot with time.

Profilo smart look at future with amodular , customizable and flexible system that can bring innovation also outside the bathroom.

We are now developing a new range of products (desks, shelves, beds. chairs etc.) designed for the living spaces and compatible with our system, that will allow you to think outside the box and create a flexible , versatile and potentially multi-purpose bathroom.